Walton's Ergonomic Handle is Recommended for Chain Saw Filing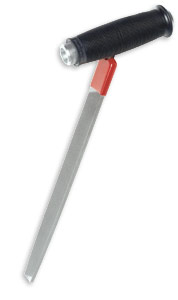 An excerpt from an article by Kenneth R. Boness in The Timber Producer
" . . . there is another accessory that takes the strain out of using tools . . . the Walton Ergonomic File Handle. It . . . is simple in construction. Consisting of a metal chassis covered by a cushioned grip (along with a couple of screws and an optional finger cushion), the best feature is not what it is but what it does.
"We all file, whether it be saw chain or whatever; no toolbox is complete without at least one file. And we all place our wrists in an uncomfortable position when we file with a conventional handle . . . The Walton Ergonomic File Handle will certainly allow you to file more comfortably. And more comfortable means fewer strokes with greater safety.
"Here's how it works: The file's tang is inserted through an opening in the side of the Walton Handle. Two screws, accessed through the ends of the handle, are tightened on the tang . . . When assembled, the file-handle intersection closely approximates the natural, thirty-five degree angle of your wrist. And filing with the Walton Handle is sooo comfortable. Studies have shown that usage of the Walton Ergonomic File Handle significantly reduces Cumulative Trauma Disorder (CTD). And the soft, ribbed, handle does its part to lighten your life.
"When filing my chain saws with a round file, I use the Walton Handle as described above. But when flat file work is needed, I add the finger cushion provided by Walton. Nothing more than a soft piece of vinyl that slides over the tang of the file before the file goes into the handle, it is, like the handle, simple and effective. As the handle is gripped so that the file protrudes between the first and second fingers, the cushion makes filing noticeably more enjoyable by covering sharp edges on the file. And the Walton Company wants your work to be enjoyable."